Promovierendentag and symposium on 15 April 2021
Academia: For the Children of University-Educated Parents Only?
30 April 2021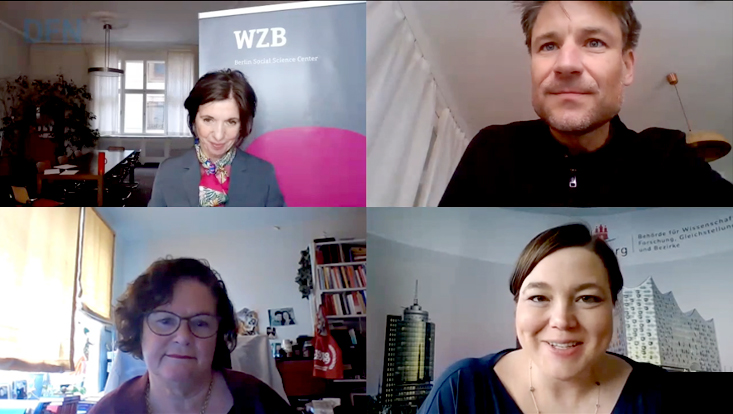 Photo: HRA
Panel discussion with Prof. Jutta Allmendinger, Katharina Fegebank, Prof. Ingrid Gogolin, and Manfred Götzke
In Germany, people whose parents hold university degrees have a decisive educational advantage that threatens to become even greater as a result of the pandemic. In light of this current development, the Hamburg Research Academy organized a digital theme day on social background and equal opportunity on 15 April.
The two main events—the Promovierendentag and the Symposium—provided an opportunity for personal exchange of thoughts and ideas, networking, and discussion on academic policy. Additionally, first-generation academics had an opportunity to learn more about and tap into specific support services for their career path. The wide-ranging program and the high-caliber panelists—Prof. Jutta Allmendinger, Prof. Ingrid Gogolin, and Senator Katharina Fegebank—met with great interest from all over Germany. Besides early career researchers from Hamburg, the 231 participants also included numerous stakeholders from academia and research and higher education management as well as interested members of the public.
Topic of the year: "Wissen schafft Karrieren?"
Learn more about the 2020/21 topic, which focuses on social background and equal opportunity in academia and that the Hamburg Research Academy is hosting together with the cross-university Hamburg Conference of Equal Opportunity and Gender Equality Officers in Higher Education (LaKoG):
Promovierendentag: Overcoming obstacles
"If you come from a non-academic family, you are in the minority," said acting professor Dr. Christina Möller of the Fachhochschule Dortmund, University of Applied Sciences and Art, in welcoming students to the Promovierendentag. In her keynote speech, she offered an overview of statistics, causes, and possible solutions to the current situation. As special challenges for socially upwardly mobile students, she cited a low level of self-confidence in their own abilities, lack of (academic) networks and a feeling of being "in the wrong place" in the given situation. The various short workshops offered on the Promovierendentag introduced strategies and options for overcoming these and other obstacles. All workshops emphasized being as active as possible in planning one's own career and establishing networks. Participants also had the opportunity to do the latter immediately—at virtual bar tables or at the trade fair stands from the Doctoral Council of the Hamburg Research Academy and initiatives such as Erste Generation e.V. and arbeiterkind.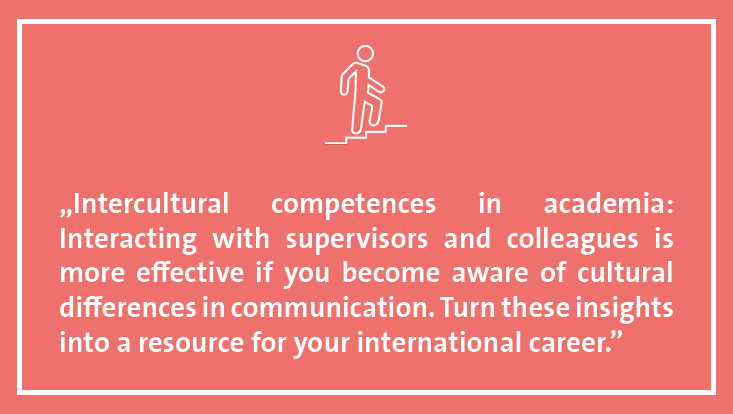 Photo: HRA
Dr. Kerstin Lange on her workshop, which focused on being an international researcher in Hamburg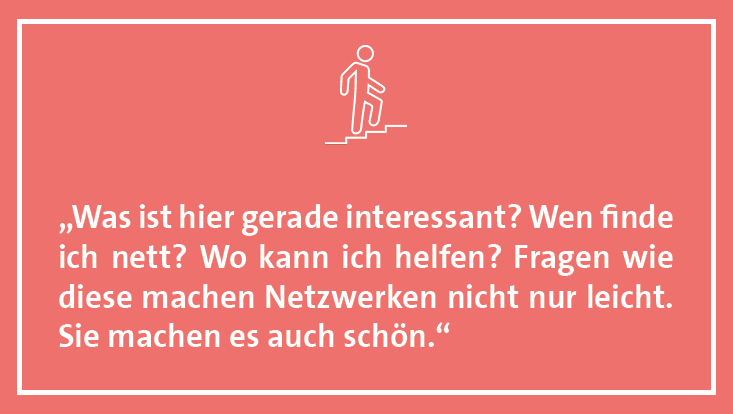 Photo: HRA
Dr. Sylvia Löhken on her workshop, which centered on networking during doctoral studies with tailor-made strategies for establishing and maintaining contacts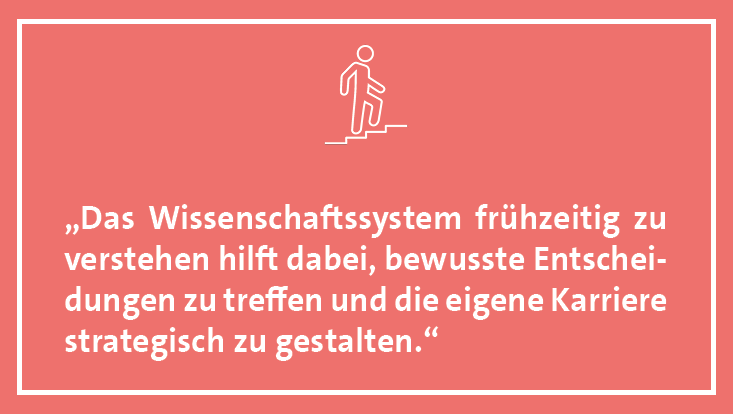 Photo: HRA
Dr. Linda Jauch on her workshop, which revolved around strategically planning one's academic career and understanding the academic system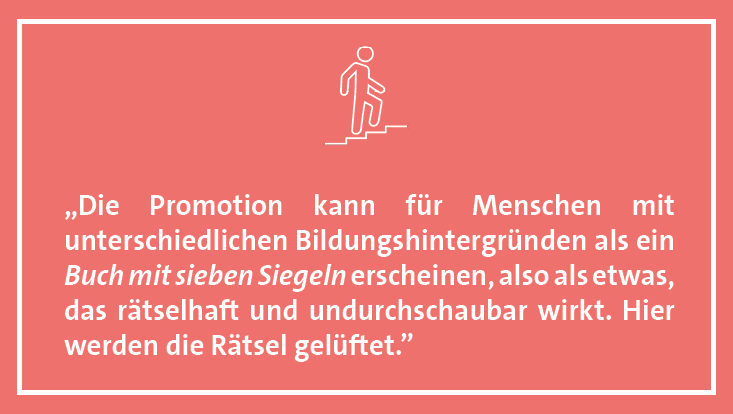 Photo: HRA
Dr. Nina Feltz on her workshop, which considered the question of whether or not doctoral studies remain a mystery to some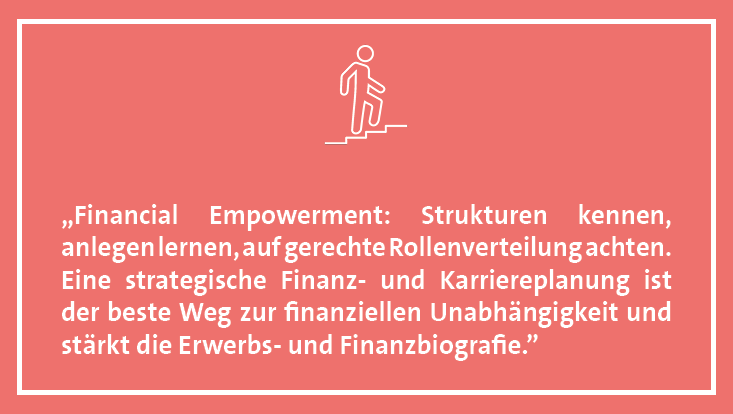 Photo: HRA
Dr. Birgit Happel on her workshop on financial empowerment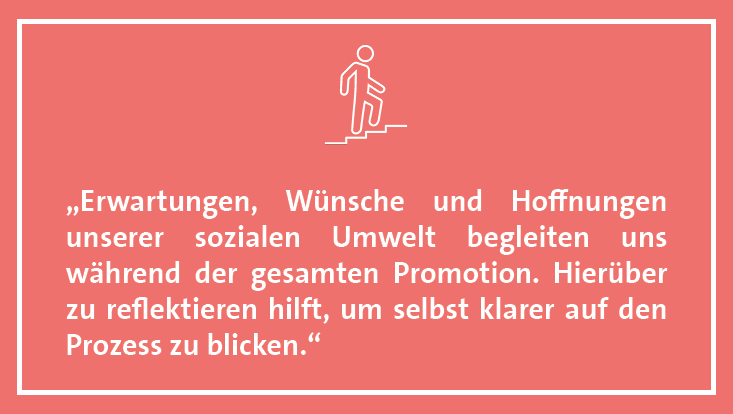 Photo: HRA
Dr. Ann-Kristin Kolwes on her workshop, which examined the link between personal background and doctoral studies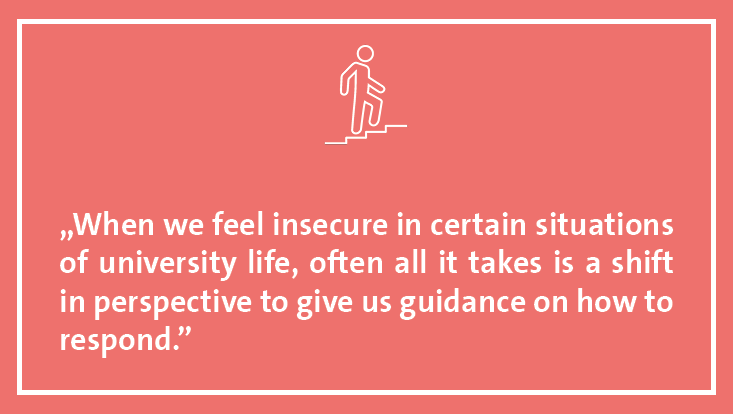 Photo: HRA
Barbara von Graeve on her workshop, which looked at campus etiquette for PhDs
Symposium: Academic policy discussion and personal exchange of experiences
What can universities and policy-makers do to support people from non-academic families on their path to academia? What can be done to avoid a "corona generation"? In the search for answers, the symposium first looked at the start of the educational path. The panel discussion then concentrated in particular on the situation of high school and university students, since the pandemic has magnified the obstacles these groups face on their potential journey to the world of academia. The discussion between Prof. Dr. h.c. Jutta Allmendinger, PhD (Berlin Social Science Center), Katharina Fegebank (second mayor and senator), and Prof. Dr. Dr. h.c. mult. Ingrid Gogolin (Universität Hamburg) made especially clear that what is needed are not ever more new "model projects" but instead, at long last, systematic support for the children of non-academic parents in climbing the academic career ladder. The transcript of the discussion and the preceding keynote speech by Jutta Allmendinger can be found below.
The program moved swiftly from the on-stage discussion to a direct exchange of thoughts and ideas. In 7 expert forums, early career researchers in Hamburg provided insights into their current research while initiatives presented their portfolio of support services. At the end of the day, Dr. Ann-Kristin Kolwes and Prof. Ingrid Gogolin reported on their personal experiences in academic life. Ann-Kristin Kolwes, a first-generation academic herself, shared how she "wrote herself off" when faced with self-doubt fueled by her background, fear of uncertainty, and a feeling of being in the wrong place when deciding to switch from academia to research and higher education management after earning her doctorate. As the founder of the initiative Erste Generation Promotion e.V. and the coordinator of a mentoring program at Universität zu Köln, she now supports other doctoral students on their journey and in particular in consciously planning the early stages of their career. At the end of the day, the participating researchers were encouraged to take advantage of concrete support offers such as the HRA Promovierendentag and in particular to network with each other. The empowering information exchanged here provided a decisive impetus for a successful career in academia.
Good to know
HRA Salon—Macht & das Wissenschaftssystem The final event of the theme year will be held on 28 September. Many of the questions and suggestions from the chat and the discussions during the theme day will be addressed there. We look forward to a further exchange of thoughts and ideas with you!
HRA spotlight—Unconscious Bias The informational event on 2 June is directed in particular to academic supervisors and will take a closer look at exclusion mechanisms and unconscious discrimination effects in academia.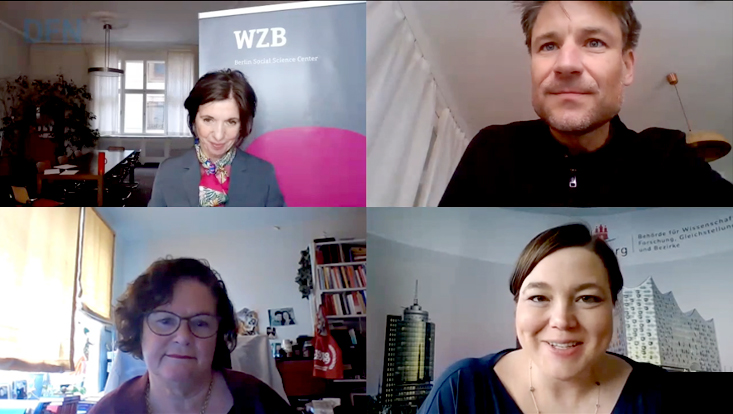 Keynote speech and panel discussion
Stay in the loop
Interested in staying up to date on HRA's latest offers? Follow us on Twitter or Facebook and register for our newsletter!
Contact
Dr. Linda Jauch
Postdoctoral Researchers and Junior Professors
Saskia Pfeiffer
Doctoral Researchers