HRA Salon—Power and Academic System
Setting the levers into motion: long-term improvements in academic power structures
29 November 2021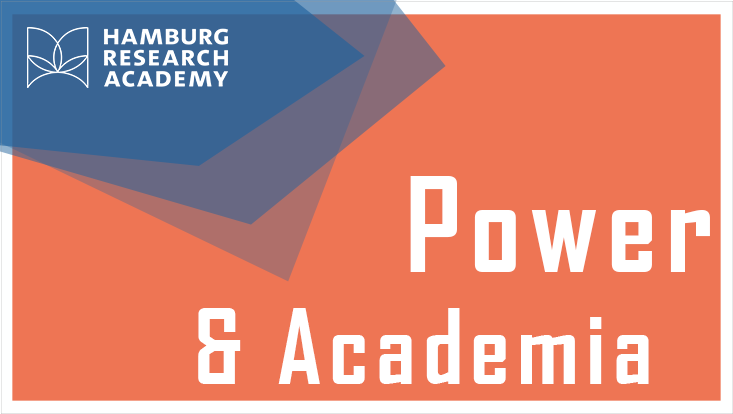 Photo: HRA
The fifth and last part of the HRA salon series on power and academia took a look at the big picture of German academia. On 28 September, the Hamburg Research Academy and its guests discussed the possible systemic causes of power asymmetries addressed in the 4 previous salons. What higher education policy developments in the last few years have positively or negatively impacted dependencies? And what kinds of reforms does the system now need, especially with a view to the new German government, in order to make long-term improvements for early career researchers and Germany an attractive place for science and research?
In addition to 4 prestigious guests, the event attracted roughly 200 audience members. These included experts from graduate institutions from all over Germany, due also to the fact that the HRA Salon was also the opening event of the German University Association of Advanced Graduate Training (GUAT/UniWiND).



"What has happened so far..." Positive developments in the German academic system
I the last 10 years, the German academic system has been anything but static. Internationalization at German universities has taken enormous strides. For example, the number of international students has almost doubled since 2010 and the number of international staff has also increased. Competition in the Excellence Strategy led to clearer profiles and new strategies at the individual universities. Furthermore, conditions for doctoral and early career researchers have improved in many places thanks to the establishment of structured doctoral programs and graduate schools. The increasing establishment of leadership training for supervisors and supervising agreements have also contributed to improvements. And finally, awareness of inequalities in power structures within academia has grown. Of course, awareness alone is not sufficient to solving the problem.
Guests
Prof. Dr. David Bogle
Pro-vice provost of the University College London Doctoral School, chair of the League of European Research Universities Doctoral Studies Policy Group
Dr. Henrike Hartmann
Deputy secretary general and member of the management at the Volkswagen Foundation
Prof. Dr. Reinhard Jahn
Director emeritus at the Max Planck Institute for Biophysical Chemistry in Göttingen; 2019–2020 president of the University of Göttingen
Antonia Weberling, Msc
Doctoral researcher in her fourth year at the University of Cambridge, initiator of the RescueHorizonEurope campaign
Ralf Krauter
Science journalist, moderator
German peculiarities: late autonomy and double dependencies
The experts from Germany and Great Britain agreed on both the advantages of the German system in international comparison (financial situation, research tradition) and the biggest problems: the long doctoral and postdoctoral phases and, accordingly, the late autonomy and resulting dependencies. Antonia Weberling described the consequences that such prospects can have on career trajectories. After studying in Germany, she specifically chose to do her doctorate in Great Britain, where doctoral studies are limited to 4 years and funding throughout is guaranteed. Uncertain career options in Germany affect both individual professional decisions and Germany's international academic competitiveness. Furthermore, it is precisely the long-term dependency on superiors, supervisors, and reviewers—and it is a peculiarity of the German system that these roles are often assumed by a single person—that can lead to significant power imbalances that make abuse of power easier.
Tenure track: is a new career path the solution?
W1 / junior professorships, junior and early career research groups, and, above all, tenure track professorships were introduced to facilitate clear career paths and early independence on the road to a professorship. The German Federal and State Governments introduced the tenure track professorship in 2017, setting aside €1 billion for 1,000 additional tenure track professorships until 2035. Unlike the term-limited junior professorship, these professorships become converted to permanent professorships at the same university following a successful probationary period. Funding was designed to increase the number of professorships overall. Thanks to excellent applications from Germany and abroad, the new positions gave a noticeable short-term boost to the German academic system, according to Prof. Dr. Reinhard Jahn, who was also part of the selection committee for the Federal Ministry of Education and Research (BMBF) tenure track application call. Even if the new professors profit from more transparent career paths, the goal of increasing professorships was not reached: because the federal government funded only the first 6 years and the universities themselves had to fund the subsequent tenure track positions, universities chose to move new appointments forward and invite applications for tenure track positions that would have become available anyway thanks to the retirement of current holders. From his international perspective, Prof. Dr. David Bogle underscored the basic idea of creating new, much more transparent and thus more attractive career paths. Now, however, we need to look for new ways to establish tenure track positions long-term.
A fundamental problem: two contradictory career systems
The academic fixed-term labor contract act (Wissenschaftszeitvertragsgesetz, WissZeitVG) is currently in the spotlight thanks to the #ichbinhanna controversy. The problems were touched upon in the HRA Salon but the law was seen as more of a symptom than a cause. Dr. Henrike Hartmann and Prof. Dr. Reinhard Jahn agreed that the fundamental problem is rather the parallel funding of 2 diametrically opposed systems: at the same time that new career paths (W1 and/or tenure track professorships with early independence) are being introduced, post-doc positions within the framework of the Excellence Strategy are being funded, whereby standard academic search procedures and, accordingly, longer power imbalances, were being more firmly established. This, the guests agreed, requires reforms in time for the next round of Excellence Strategy applications. The new approach in the academic system should also be supplemented by a basic measure: obligatory and neutral career counseling that illuminates, honestly and in a timely manner, all career options within and outside academia.
Ideas from the discussion...
regarding necessary measures for the next 5 years:
facilitate early independence of researchers
reform the Excellence Strategy in favor of better science and scholarship, clearer career prospects, and research outside of clusters
introduce obligatory (external) career counseling following doctoral studies to provide information about non-university career options
facilitate greater university independence and flexibility
establish a better culture of leadership
improve conditions for doctoral studies finance the entirety of doctoral studies, allow for autonomous use of resources, abolish 60%-doctoral positions
set up mandatory graduate-school-affiliated doctoral programs
separate the academic system from public service to enable greater flexibility and competition
And now? A coup or smaller reforms?
On the first 4 salon evenings on supervision, research funding, diversity, and international mobility, various panelists discussed power imbalances and the necessary countermeasures. The last salon evening focused on the search for systemic causes and suitable levers for effecting change in the often specifically German power imbalances. The Hamburg Research Academy is certain that both smaller, concrete measures and larger systemic change are necessary. For example, we cannot wait for urgently needed improvements in supervision (e.g., nationwide introduction of binding supervision agreements, separation of supervision and evaluation duties— read more at HRA Salon—Macht & Betreuung), as several audience members noted. Policymakers, universities, and funding providers must all heed the call to implement changes large and small.
Many of the areas under discussion suffer from a lack of transparency: this applies to the WissZeitVG as much as to the problems in career counseling. Prof. Dr. David Bogle made a closing appeal in a fitting conclusion to the series: "We need more honesty in the system!"
Vision 2030—what will the German academic system look like?
Dr. Henrike Hartmann:
Universities are independent and internationally competitive. They have a career system that better supports science and scholarship. Men and women have an equal share of professorships.
Prof. Dr. David Bogle:
The system is much more flexible and permeable. Universities' outreach is stronger.
Antonia Weberling, Msc:
Germany is a magnet for outstanding researchers. There is greater flexibility for individual career paths and more courage when it comes to creative research projects.
Prof. Dr. Reinhard Jahn:
The academic system takes better care of young people. Their ideas are encouraged, they are respected, and they enjoy support in their independence.
Current HRA events on the academic system
Stay in the loop
Want to be kept up to date on the HRA's latest offers? Follow us on Twitter or Facebook and register for our newsletter.