HRA Salon—Power & Global Orders on 3 June
Opportunity or Privilege? International mobility in academia
15 June 2021
Photo: HRA
Going abroad is indispensable for a career in academia, but not everyone has the same opportunities to do so. On 3 June, Power & Global Orders, an HRA Salon discussion in English, illuminated the topic of international mobility and focused on current inequalities and power relations. To what extent do background and nationality influence access to leading international universities and funding organizations? What can universities do to become more diverse and inclusive? And how can researchers gain international experience and skills if they cannot do research abroad?
The event followed 3 previous Salon evenings on power and academia, specifically academic supervising relationships, funding providers, and elites. The Hamburg Research Academy's HR Salon is a series that provides a forum for pressing topics in academia. It fosters interdisciplinary and cross-university contact in Hamburg. On this fourth Salon evening, the first to be held virtually, Dr. Başak Bilecen, Dr. Muriel Helbig, Dr. Valerie Liebs, and the moderator Ralf Krauter took part.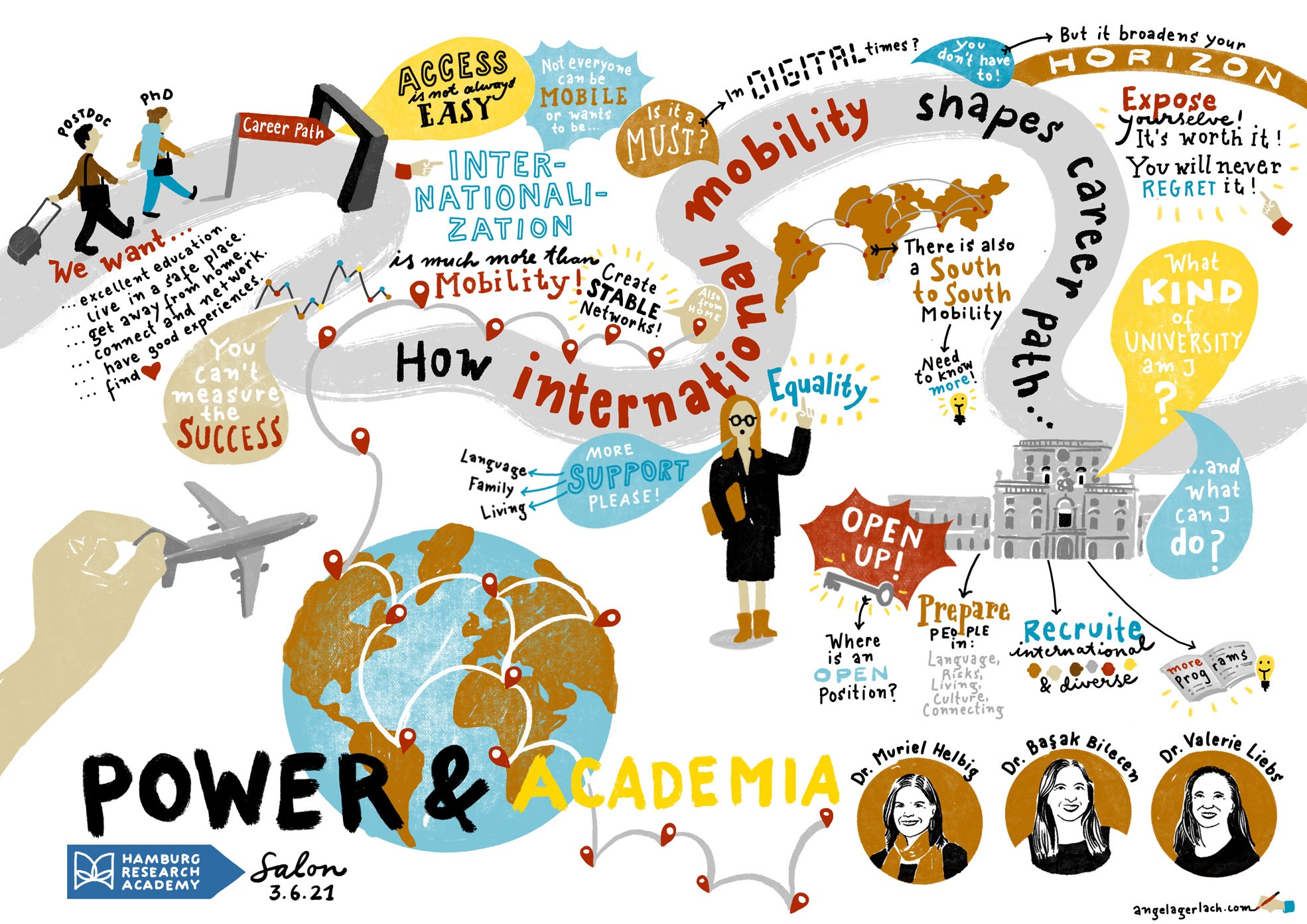 Download graphic recording [JPEG]
Cosmopolitan academia?
For many German researchers, going abroad is a simple matter thanks to opportunities such as DAAD funding and the Erasmus program. On the other hand, the DAAD annual study Wissenschaft Weltoffen (cosmopolitan academia) reveals that researchers from other countries do not have long-term prospects in the German academic system. The sociologist Dr. Başak Bilecen from the University of Groningen conducts intensive research on student mobility and took a glance at her current study: while 12.7 percent of the staff at German universities is international, only 7.7 percent are working as professors and 66 percent of these are from western Europe. From a global perspective, academic mobility is uneven.
Mobility is not always the goal
Dr. Valerie Liebs agrees. She points to a lack of financial and infrastructural opportunities in many countries. However, an international career is not necessarily everyone's goal: The funding campaign Knowledge for Tomorrow—Cooperative Research Projects in Sub-Saharan Africa, which is being offered by the Volkswagen Foundation and which Dr. Liebs was recently involved in, enabled funded researchers to stay in their countries of origin. The project helps them pursue their research at home while also being able to access international networks. At an individual level, this is an opportunity that also prevents brain drain and the associated negative consequences for the researcher's home country.
Entering German academia
With regard to German academia, Dr. Muriel Helbig, vice president of the DAAD and president of TH Lübeck, emphasized the duties of universities and funding organizations, which she said include facilitating access for international researchers. In the first place, she continued, knowledge of career paths in the German system must be made transparent and concrete support services as well as administrative support and language courses for newly appointed professors must be offered. This is the only way, she concluded, that international recruitment can succeed. And Germans who have spent a long time abroad can also face challenges when they come back. Building stable networks "at home" during one's absence—all guests agreed—is extremely important.
International experience is more than just mobility
One of the threads of the evening's discussion was how "international experience" is defined and how doctoral and early career researchers can gain international skills and indicate these in their CVs. "Internationalization is so much more than mobility," said Dr. Muriel Helbig. "Not everyone can be mobile and not everyone wants to be mobile but you can still have some kind of internationalization in your CV, in your career, and that's also valuable." Many academic activities during the doctoral or postdoctoral phase can also be conceived internationally—without going abroad.
Internationalisierung @home
You can strengthen your international skills and add these to your CV without going abroad.
international cooperation projects
international publications
working in or gaining initial leadership experience in international teams
taking part in Buddy programs at your own university
foreign language proficiency
new digital international cooperation formats, e.g., digital teaching at a university abroad
Going abroad is worth it!
Are the qualifications in your CV the most important thing? For Dr. Başak Bilecen, her experiences in different countries have a much broader significance: "The way I look at the world, how I think, how I write, how I approach things", all of this has been influenced by her experiences abroad. The evening concluded with all 3 guests encouraging researchers in the audience to take this step, if possible:
"During my entire career, I've never met anyone that has regretted going abroad. But I have met many that regret missing out on this chance. Just go!" (Dr. Muriel Helbig)
"Are you ready to get out of your comfort zone? Try to get out. Even if you say no, I cannot go out—push yourself." (Dr. Başak Bilecen)
"Exposing yourself [to new things] is worth it. It's a risk, it's challenging but it's absolutely worth it." (Dr. Valerie Liebs)
Good to know
Erasmus isn't just for students. Find out from your university about funding for short-term teaching positions, language trips, or going abroad for the purpose of advanced training or continuing education!
The information session HRA spotlight—Auslandsaufenthalte während der Promotion takes place every semester. See the Hamburg course portal for current dates and times as well as further offers to support your international career.
The last HRA Salon in the Macht " Wissenschaft series will take place on 28 September.
Stay in the loop
Interested in staying up to date on HRA's latest offers? Follow us on Twitter or Facebook and register for our newsletter!