COVID-19: working from home, closed libraries and laboratories
We asked doctoral researchers in Hamburg what is keeping them going
8 April 2020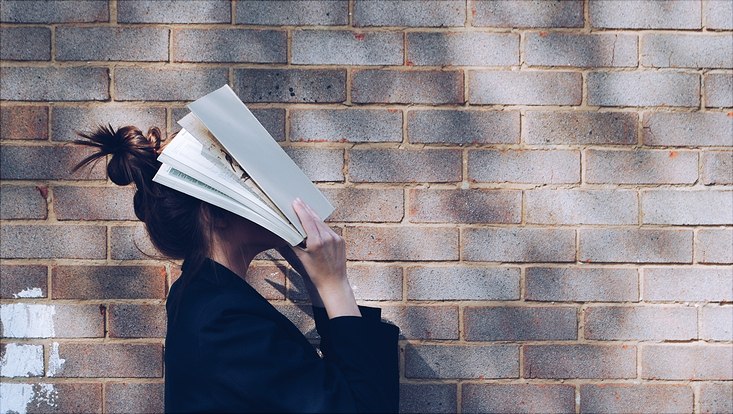 Photo: Siora/unsplash
The public have never been more aware of the impact of scientific findings on political decision-making than in the current reporting on COVID-19. That being said, the day-to-day work of almost all researchers—regardless of their discipline—has been severely disrupted by the measures to curb the spread of the virus. We spoke with 8 doctoral researchers from different departments and universities in Hamburg about the current situation. What impact is the pandemic having on their daily work and their doctoral dissertation? What new challenges are they facing and what specifically helps them to keep going? We were also interested to hear what long-term effects they expect the pandemic to have on science and scholarship.
"I was on a conference trip in Egypt and now I'm locked out of Germany. The travel restrictions that involved shutting down Egyptian airspace occurred when I was supposed to fly back […]. Therefore, I am of course unable to resume normal laboratory work. […] I am anxious about the time wasted every day and the work delay. Will I be able to finish in time?" Stranded abroad and worrying about every day out of the lab—Ola Nadas' current situation sounds like an extreme example. But similar existential worries can also arise while working from home—if childcare is no longer available (as in the case of Elise Schobeß and Hubert Fudjumdjum) and concentrating on work is barely possible in the midst of everyday family life. Due to the time-limited nature of employment contracts and funding, the time currently being lost almost always raises financing questions. For Yvonne Siegmund and Sally Dacie, the coronavirus pandemic also means waiting, as no oral defenses are being conducted at their universities until further notice. Sally Dacie is hoping to complete her oral defense online: "Of course, in that case some of the ceremony would be missing; all the hugs and the cardboard hat, but I wouldn't mind too much."
Despite all the adjustments and personal worries, many still see the crisis as an opportunity: for digitalization, an intensification of the international cooperation in science and scholarship, strengthened scientific communication, and a new social relevance for science and scholarship in general.
The doctoral researchers we spoke with have attempted to adjust their daily lives to the new circumstances in a variety of ways. "Despite the flexibility of working from home, I try to stick to set working hours, after that I can talk to family and friends, watch series or movies, and prepare something delicious for dinner. Regular online meetings with my subject group and a close exchange with my supervisor also really motivate me," says Eduardo Gresse. The other doctoral researchers interviewed also find a structured daily routine and complementary activities such as walks in nature, reading a long-anticipated novel, or a virtual lunch helpful. Ola Nada particularly appreciates the online offers of University Sports: "They help ease the stress of being housebound all day by offering different workouts."
Interviews:
Ola Nada: Stranded abroad
Ola Nada
Universität Hamburg / UKE Hamburg, Dentistry, Stem Cell Biology and Regenerative Medicine
Stranded abroad
My doctoral thesis is totally affected by the global lockdown. I was on a conference trip in Egypt and now I'm locked out of Germany. The travel restrictions that involved shutting down Egyptian airspace occurred when I was supposed to fly back 2 weeks ago. Therefore, I am of course unable to resume normal laboratory work. Contact with my supervisor is also rather limited. Fortunately, my income is secured by the UKE during this period. Nevertheless, I am anxious about the days being wasted and the work delay. Will I be able to finish in time? This particularly worries me because my laboratory was not fully functional in the past year due to material shortages and a broken microscope camera, so I was already behind. I also fear that the crisis may take much longer to resolve than anticipated and that I might have trouble re-entering Germany with my current visa, which expires in February 2021.
Quarantrainings and onion rings
For me, the most helpful thing at the moment are the online "quarantrainings" being offered by University Sports. They help ease the stress of being housebound all day by offering different workouts. Another helpful thing is exchanging recipes with friends and cooking new dishes, then sharing photos online (most recently: onion rings!). I am finding it really challenging to work online as the nature of my work at this stage still requires lots of actual laboratory experimentation. Nevertheless, I am trying to make the best of it by catching up on the latest literature but sometimes helplessness overpowers my motivation.
I just hope that my finances remain secure so I am able to keep paying my rent and expenses. Efficiency and speed will be very much needed once the crisis is over. With the help of my supervisor, I will have to make the most of the remaining semester.
Eduardo Gresse: Yearning—but also more time—for completion
Eduardo Gresse
Universität Hamburg, Sociology
More time for completion
I'm currently finishing off my dissertation, hence I'm trying to remain entirely focused in "my world" (working from home). This is often difficult, though, when I start reading the news. I yearn for the freedom to just go somewhere and relax as well as to socialize with colleagues and friends. My working day hasn't really changed that much otherwise, except now I have even more time for my dissertation and can take a nap.
Optimism, sport, music, and set working hours
It helps me to think that we are doing something positive for society if we stay at home and that it will be over soon. Beside a critical, realistic attitude, optimism and hope are very important to me. Breaks to do sport or play the guitar also help me. Despite the flexibility of working from home, I try to stick to set working hours, after that I can talk to family and friends, watch series or movies, and prepare something delicious for dinner. Regular online meetings with my subject group and a close exchange with my supervisor also really motivate me!
Crisis as an opportunity for science communication
I believe that the current situation will change many things in science and scholarship. I was already interested in science communication and knowledge transfer before the coronavirus pandemic. A rapprochement between academia and society coupled with increased interactions and legitimacy in these "post-factual" times are very important to me. It would be naive to think that everything will change immediately. But I hope there will be funding for great initiatives in these areas —and of course I would like to participate in them too!
Yvonne Siegmund: Waiting for the oral defense
Yvonne Siegmund
HafenCity University Hamburg (HCU), Urban Planning, dissertation topic: "Was treibt die Planung? Eine zeitbezogene Untersuchung von Abhängigkeiten in Quartiersentwicklungen"
Waiting for the oral defense
My oral defense should have taken place at the end of March; now it has been postponed indefinitely. This also means that my applications (e.g., for a postdoc position) have also been delayed. Given that I spent the last 2 years of my doctorate writing my dissertation in a state of existential uncertainty and the resulting demands will continue to burden me for many years to come, the current situation does not pose much of a challenge for me. I don't think I have a full picture of or can estimate the impact of the current developments on my situation yet—this will probably only be possible after sufficient time has passed.
Time lost—and time gained
I am currently unable to "continue" and so I must simply wait for a new date for my oral defense. Given that I am now also working from home, I no longer have to commute to the TU Berlin. So I have lost time, but at the same time also gained time. I've been going jogging a lot, spending more time with my boyfriend, finally reading more novels, applying to calls for applications, and helping to write several myself, too.
Working conditions must reflect the relevance of science and scholarship
The coronavirus pandemic has once again shown how fragile the system—and thus also our existence—are. Specifically for science and scholarship, I would like more secure conditions for free, self-determined, and meaningful work. The current and global developments make the relevance of science and scholarship to society as a whole clear. This unique situation also shows that it is impossible for us to meet the challenges of our time within the framework of the academic fixed-term labor contract act (Wissenschaftszeitvertragsgesetz, WissZeitVG) and the associated fixed-term employment contracts and dependencies on external funding. A positive future scenario would therefore be that a broad range of research careers are once again possible within which researchers can commit "to the cause"—research and teaching—in the long term.
Sally Dacie: Virtual lunches and digital conferences
Sally Dacie
Universität Hamburg / Max Planck Institute for Meteorology
Online defense without the hugs and cardboard hat?
I recently submitted my dissertation entitled "Using simple models to understand changes in the tropical mean atmosphere under warming." It was a very nice feeling to finally have it off my desk! I submitted it just before the university closed due to the coronavirus, but now they have made it possible to submit dissertations electronically. I am not sure what will happen with the oral defense. If the university has not reopened by then, maybe we will be able to do it via video call. Of course, in that case some of the ceremony would be missing; all the hugs and the cardboard hat, but I wouldn't mind too much. Although I have submitted my doctoral dissertation, I still have a few things to do and I am still employed by MPI-M until my oral defense. I feel very fortunate that I have a job that can easily be done remotely.
Lunch meetings with colleagues and friends
A few of my colleagues and friends and I have started having lunch together via video call once a week. Mostly we just chat, but it also has the benefit of keeping our informal lunchtime setting for sharing our latest scientific results, problems we've encountered, or nice articles we read recently.
New opportunities for online conferences
I had planned to attend the European Geosciences Union conference in Austria at the beginning of May, but the physical meeting has been canceled and replaced with a week of online sessions and activities. I am preparing a presentation for that and am excited to see how the week turns out. If it works well, it could set a precedent for other conferences to follow. Perhaps we will see more conferences offering an online program and streaming the presentations, probably then alongside a physical meeting. This would not only enable a larger number of people to participate or watch, but would also reduce travel expenses and the carbon footprint of the meeting.
Elise Schobeß: Between childcare and funding worries
Elise Schobeß
Hamburg University of Music and Drama, Kinetics in Sound and Space (KiSS) research training group, artistic research in the field of musical theater
Between childcare and funding worries
Beside the restrictions that affect all of us, such as library access, I am particularly affected by the lack of childcare, which effectively means I have less time to work. I can't stick to my schedule at the moment and depending how long the restrictions remain in place, it is also unclear if and how much I can make up the lost time. There is also a general uncertainty about how the funding for theater projects will continue in the near future. I am dependent on additional funding to complete my final artistic project. But all theaters are hurting financially at the moment because of the closures. What's more, foundations and funding pools are offering urgently-needed financial assistance due to the coronavirus, which means less funding will probably be available for regular projects after the pandemic.
Information as a means to combat the helplessness
It really helped me to read up on virology and the sociopolitical situation to understand and contextualize the processes and develop my own position on them. In this way, I at least have the feeling that I'm not entirely helpless in this exceptional situation. In the current crisis mode, I believe it is also important to consider potential dangers to everyday society and not to regress to long-outdated behavioral patterns (e.g., divide childcare duties equally between both partners).
Financial compensation for time spent taking care of children
I would like to see structures in place to take the limited opportunities to work into account due to childcare no longer being available—the possibility to extend doctoral studies beyond the regular period (and the according financial support), for example.
Debate on system relevance and the return to democracy
My view of the future: The distinction between system relevant and non-system relevant areas of society (professions) could still lead to a lengthy political/economic/sociological/psychological debate. How can science and scholarship, research, and also art argue this? What is the "system" we call society—and what should it be? Ideally, the current constraints on democracy will be countered by an even more focused return to democracy—especially at research, educational, and art institutions.
Hubert Fudjumdjum: Working surrounded by family
Hubert Fudjumdjum
Hamburg University of Applied Sciences (HAW) / University of the West of Scotland, dissertation topic "Climate change and health: an analysis of the impacts of climate change on farmers' health in Cameroon"
Working surrounded by family
The current lockdown is slowing the progress of my doctoral dissertation. I have to work at home. I do not normally work from home, as my family is there. My attention is then more focused on my family than on my work. The challenge I am facing now is how to create a comfortable workplace at home with my family. And the resources I have now do not allow me to overcome this challenge. My workspace at home is too cramped and I cannot concentrate because of the noise. I have restructured my daily work plan. Instead of working during the day, I work more at night when everyone else is sleeping. I can access the library online, but I mostly prefer physical books. I communicate with my supervisors and colleagues only via email. The lockdown has also reduced my income.
New strategy to evaluate academic performance
The long-term impact of the crisis might be detrimental in some cases and positive in others: some will lose and others will gain additional time for their research. I think progress will definitely be made in digital learning. Moreover, the universities have to define a new strategy to evaluate the academic performance of students and researchers during and after the COVID-19 crisis.
Felix Bode: Time for an intensive exchange and continuing education online
Felix Bode
Universität Hamburg, law, doctorate on human rights issues
A more intensive exchange despite the physical distance
Given that I had already compiled diverse (digital and digitalized) materials while I was still able to access the university and had various online databases, I am able to manage without them for the time being. Many publishing houses have now made most of their offers publicly available online. This is a great help, especially for international law. A problem that already existed before—and has not improved now—is the unmanageable number of databases with different access options. Physical libraries offer comparatively clearer access to resources. I find that the exchange with colleagues is more intensive: although we no longer sit together every day, when we meet for a video chat (about once a week), the exchange goes far deeper and is more focused. So while I am not really lacking in "professional" exchange, I do miss the spontaneous personal chats with colleagues.
Time for continuing education online
The attachment function offered by the Citavi reference management and knowledge organization program allows me to maintain an overview of my sources and saves me having to deal with folders upon folders of PDF files. Since I'm only just getting started with my doctoral dissertation, I'm using some of the time I've gained (due to canceled events, etc.) to take an online course in my subject area. It feels good to be able to take time for such general continuing education without having a guilty conscience.
Concept for teaching during times of crisis
As far as my doctoral studies are concerned, I'm happy. But as a research associate with teaching duties, I wish the University had developed a concept before this crisis situation arose for how teaching can even continue under adverse conditions. While the situation is more or less transparent and organized now, the sense of helplessness that prevailed initially really undermined motivation. I sometimes got the feeling that the technical and content aspects of courses were simply being left to the teaching staff.
Opportunities for greater independence in science and scholarship
The long overdue steps will hopefully now be taken toward the digitalization of teaching and academic materials. Maybe the crisis will even temporarily resolve the power imbalance in some areas: professors, mid-level academic staff, students, and all others are facing the same challenges and must learn to deal with them more independently than they have been accustomed to in the past.
Stefan Hackstein: A new era, but conferences are lacking
Stefan Hackstein
Universität Hamburg, physics, dissertation topic: "Messung kosmischer Magnetfelder mit extremen astrophysikalischen Botschaftern"
A new era, but fewer platforms to present findings
As I have quite a long commute to work with public transport, I am currently working from home, which means while discussion with colleagues and supervisors still takes place, it has been greatly reduced, and now takes place online. My oral defense has also been postponed indefinitely for the time being. Fortunately, my contract has been extended, which effectively means that I have more time to complete my doctoral dissertation. Since I am mainly working on this alone, my working day has become more relaxed—not least due to the reduced travel time. It remains relatively unchanged otherwise. A number of planned external conferences and meetings have been canceled or postponed, which means it is no longer possible for me to present my work outcomes there.
Enjoying nature
At the moment, the unbelievably beautiful weather during walks outside is really helping. Without all the air traffic, the sky is more beautiful than it has been for a long time.
Support from University management
University management should make it possible to complete examinations again soon—if necessary, with a limited number of participants, safety regulations, or electronically. It is also important to extend the employment of doctoral researchers, who are currently unable to graduate. Straightforward procedures should also be introduced to reimburse costs due to canceled conferences and meetings.
Fostering international cooperation
My view of the future: digital possibilities—video conferencing, for example—are now inevitably being developed further and used to great success. This experience will probably also lead to the increased use of these possibilities in the long term. The additional use of online resources will reinforce global communication in science and scholarship and international cooperation will be further intensified. The fundamental research questions are unlikely to change, at least not in physics. Given the economic collapse, there may be some uncertainty regarding funding for science and scholarship (at least in the medium term).
Good to know
Information on working from home:
Information on digitalization:
Current HRA offers:
We are still here for you! We have already successfully converted our program to digital formats. Advising takes place via telephone or video call.
HRA Coffee Breaks:
Doctoral researchers in Hamburg are kindly invited to start the week together. Every Monday morning from 10:30 to 11:00 am.
Stay in the loop
Want to be kept up to date on the HRA's latest offers? Follow us on Twitter or Facebook and subscribe to our newsletter!
Contact
Julia Kölle
Communications Assistant