Year in Review
2020—No Reason to Celebrate? Why We Say "Yes" to Confetti at the Year's End
17 December 2020
Photo: unsplash
One thing is certain: we know and are sure that it has been a difficult year for everyone. There's no need to sugarcoat it. The pandemic has also affected the entire academic world and working conditions at Hamburg's higher education institutions. Nevertheless, is it not remarkable what was possible under the circumstances and limitations? Doctorates were completed, lectures were held despite children in the background, and international events were attended entirely without having to book flights. The greatest success for many is surely that they kept working on their own project in spite of everything. We've all earned a Christmas break now—and for this one we'd like to throw some virtual confetti, because you should be proud of yourself! In this spirit, we would like to review the year 2020 at the Hamburg Research Academy together with you.
The year 2020 in pictures
Photo: unsplash
Click your way through the year at the Hamburg Research Academy
Photo: HRA/Peter Oldorf
HRA Salon—Power and Elites in Academia
The year got off to a good start with the HRA Salon on 20 February, which was very well attended. The series provides a platform for selected guests to discuss pressing matters in academia with the general public. The February salon focused on the topic of power and elites in academia. We were happy to have the following guests at the podium: Dr. Reyhan Şahin aka Lady Bitch Ray (language, Islam, gender, and racism researcher; rapper, journalist; and book author), Dr. Annette Julius (secretary general of the German Academic Scholarship Foundation), Dr. Ann-Kristin Kolwes (project coordinator for the First Generation Doctorate Mentoring+ program at the University of Cologne), and Professor Michael Gille (head of the Graduate Centre at HAW Hamburg). You can find the graphic recording and an audio recording of the evening in this article.
Photo: unsplash
Topic of the Year: Social Background and Equal Opportunity in Academia
The salon evening also kicked off the series on social justice and equal opportunity in academia (Wissen schafft Karrieren? Soziale Herkunft und Chancengerechtigkeit in der Wissenschaft), which we organized together with the Hamburg Conference of Equal Opportunity and Gender Equality Officers in Higher Education (LakoG). Patron of the project is Katharina Fegebank, second mayor and senator for science, research, and equalities of the Free and Hanseatic City of Hamburg. We are particularly proud of the series of interviews with first-generation researchers, who give very personal accounts of their experiences at university. In addition, the workshop Herkunft macht Karriere(n)—Wissenschaftler*innen der ersten Generation took place, which focused on resources from our family of origin, images we have of ourselves, and how we appear to others, and developing networks. If you've missed these topic-of-the-year activities, don't worry. In light of the pandemic, we are extending the program into Summer Semester 2021. Find out what's planned for the coming months in this article.
Photo: unsplash
Let's Go Online!
When the situation with the coronavirus came to a head on a global scale in mid-March, our semester program had already been planned and published. However, our team worked hard to quickly adapt the program and only a few workshops and events had to be postponed or canceled. The first online HRA workshop took place just a few days after the official cancellation of all in-person events and activities. And the new situation also brought many positive changes with it. New formats were created to meet the new needs. These included the weekly HRA Coffee Break for doctoral researchers to chat and exchange ideas and experiences.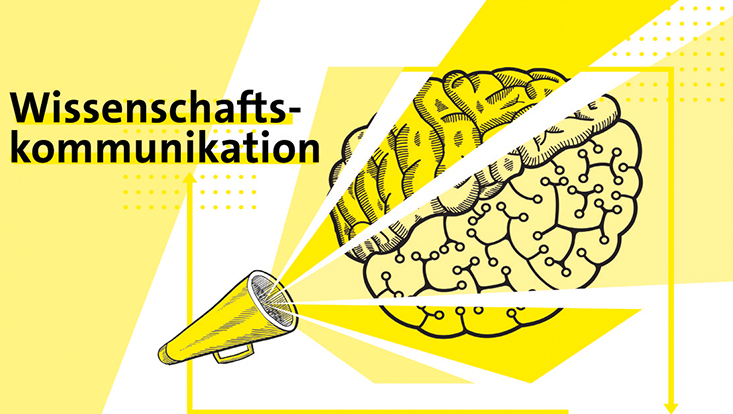 Photo: HRA
Research Communication Project
Our Research Communication Project officially started in April at the beginning of the summer semester. The project aims to help academics in Hamburg communicate their research work successfully by teaching them practical techniques and establishing a platform for communication between the academic community and society. An entire WissKomm week was originally planned to start things off, but as a result of the pandemic it was divided up over the semester in online formats. The project was initiated and funded by the Claussen Simon Foundation. All current opportunities and activities can be found on the project page.
Photo: unsplash/Andrew Mantarro
HRA Coffee Break
In this time of social distancing, the demand for opportunities to exchange ideas and experiences has increased tremendously and we responded by creating the HRA Coffee Break. Doctoral researchers from all disciplines and higher education institutions have since been invited to start the week with a coffee break together. Whether as an informal meet-up or interdisciplinary networking, online networking is a must on this unusual path to a doctorate that revolves around working from home. Feel free to participate any or every Monday. The coffee breaks will continue next year and will be tailored to address the participants' needs.
Photo: BWFG/Arnold
The Hamburg Research Academy Celebrates Its Second Anniversary
In May, we had an important anniversary to celebrate: 2 years earlier, on 25 May 2018, the Hamburg Research Academy was inaugurated in a ceremonious Senate reception (photo). An anniversary like this is a good moment to celebrate the journey of an institution—even if we could only celebrate virtually this year!
Photo: unsplash
September is Writing Month
In September, we had the first writing month at the Hamburg Research Academy. In addition to workshops on academic writing, we also hosted an online writing retreat together with the writing center at Universität Hamburg. Given the overwhelming response, it certainly won't be our last writing month!
Photo: HRA/Gerlach
DISCIPLINES UNITED
October was an eventful month. DISCIPLINES UNITED, an inter- and transdisciplinary research workshop organized by our Doctoral Council, kicked off on 9 October. This project gives doctoral researchers and postdocs who have a research idea that transcends the boundaries of traditional disciplines the opportunity to acquire additional interdisciplinary skills and network with each other. There will be a follow-up date in 2021—we look forward to seeing the results! The graphic recording of the first workshop day is available to download here.
Photo: HRA
New Members of the Doctoral Council
Our year continued in October with the election of the new 2020/21 Doctoral Council! The Council advocates for the interests of doctoral researchers in Hamburg and represents doctoral researchers in the committees of the Hamburg Research Academy. In addition, the members contribute their own services to foster cross-university exchange as, for example, with the DISCIPLINES UNITED project. Doctoral researchers from our member universities are always welcome to participate. We congratulate the newly elected spokespersons and wish them all the best for their term of office.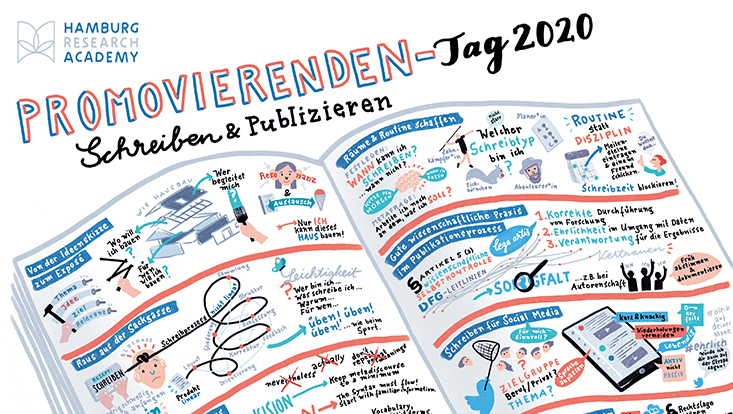 Photo: HRA/Gerlach
HRA Promovierendentag 2020
The online HRA Promovierendentag on 22 October with its focus on writing and publishing was the highlight of this eventful month. Participants from 5 higher education institutions and 38 departments as well as lecturers from 5 university institutions took part in discussions, exchanged ideas and experiences, and engaged in networking. Many thanks to all those involved for their commitment! See the detailed report. We are particularly happy to have the graphic recording as a way to document and save the results.
Photo: Esther Horvath
WissKomm Talk with Antje Boetius
A big highlight in November was the Online Talk with Antje Boetius on 12 November, which was part of the science communication project. Together with an interested group of participants, we spoke about the new public interest in science, good science communication, and the chances this offers for your own career. Prof. Dr. Antje Boetius has been speaking enthusiastically to the public about her research for years. It is especially notable that she has made communication a regular part of her daily work since the beginning of her career. This is a good point for doctoral and early career researchers to consider because the topic is more current than ever in these times of working from home. For practical tips on how to get started in science communication, read our report.
Photo: UHH/Ohme
Fast-Track Program, Postdoctoral Fellowships, and Nacaps Study
Over the course of the year, the Hamburg Research Academy was involved in introducing 2 funding programs that were created at Universität Hamburg as part of the Excellence Strategy: postdoctoral fellowships and the fast-track program. We will support both programs in the future with relevant skills development and networking opportunities. In addition, we coordinate the Nacaps study for Universität Hamburg. This study examines the career paths of doctoral researchers and graduates.
Photo: HRA
Panel discussions on the Impact of the Pandemic
The year was concluded with an online discussion the Postdoc Council held on 8 December. The discussion evening was devoted entirely to the current topic of coronavirus and working conditions at Hamburg's higher education institutions. The guests included Dr. Isabelle Borucki, Dorit Dingler, Jun.-Prof. Dr. Benedikt Kriegesmann, Tabea Henn, and Eva Kuschinski as well as representatives of a number of status groups. Many thanks to all participants for their contribution. The discussion was recorded and will be available on our website soon.
Photo: unsplash
Looking Ahead to 2021
We will continue to work online in the new year and are trying out new formats. The workshops and events for the current semester can be found on the Course Portal HH. We can already tell you that in addition to the next HRA Promovierendentag, we have various discussion formats as well as our first podcast planned for the summer semester. Sign up for the newsletter to get regular updates about our activities.
We would like to express our sincere thanks to the member universities, partner institutions, HRA committees, and of course to all of the doctoral and early career researchers who have taken advantage of our services and shared their ideas and experiences with us!
Contact
Dr. Elena Nendza
Managing Director
Julia Kölle
Communications