HRA Promovierendentag 2020: Focus on Writing and Publishing
"There is no such thing as the ideal time to start writing."
5 November 2020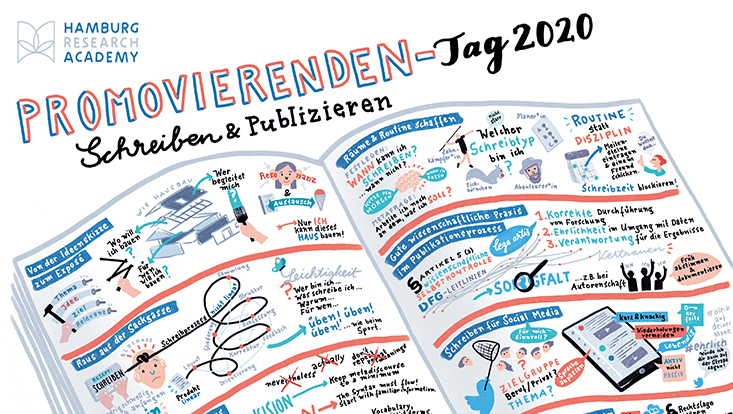 Photo: HRA/Gerlach
The HRA Promovierendentag on Zoom—together with participants from 7 higher education institutions and 38 departments, we rose to this new challenge! With this year's focus on writing and publishing, on 22 October, doctoral researchers met online, took part in workshops, and exchanged information and ideas with each other.
How do I write a proposal? How do I write an abstract in English? What things do I need to consider when writing text for social media? What methods help to overcome writer's block? How can I best organize my writing process? What aspects of the publishing process do I need to consider? Experts from a wide range of institutions addressed these questions in short workshops and encouraged discussions. Access the most important content of the workshops in this graphic recording [Download JPG].
Digital Networking: on a screen instead of at the bar table
Exchanging ideas about topics and challenges you have in common with other doctoral and early career researchers and making contacts outside of your own field—we didn't want to forgo an opportunity to network, especially in this era of digital technology. Between the workshops and away from the fixed program, the participants had the opportunity to get to know each other in small, randomly assigned groups. The positive feedback showed us just how much of a demand for networking there currently is. Beyond the Promovierendentag, we would also like to invite you to take part in our online coffee breaks.
New members on the Doctoral Council
Introducing the new members of the Doctoral Council was a highlight. At the end of the day, there was an open meeting for all those interested in being on the Doctoral Council. The previous spokespersons were officially thanked for their service and new doctoral researchers were elected to the Council. We look forward to the new Doctoral Council's ideas and activities!
Bundled expertise
Many thanks to our partner institutions who contributed to the success of the day with their expertise:
Department of Communication and Marketing Universität Hamburg
Universität Hamburg's Career Center
Ombuds Office of Universität Hamburg
Universitätskolleg writing center, Universität Hamburg
State and University Library Hamburg, Carl von Ossietzky
Contact
Saskia Pfeiffer
Doctoral Studies
Julia Kölle
Communications