Doctoral Council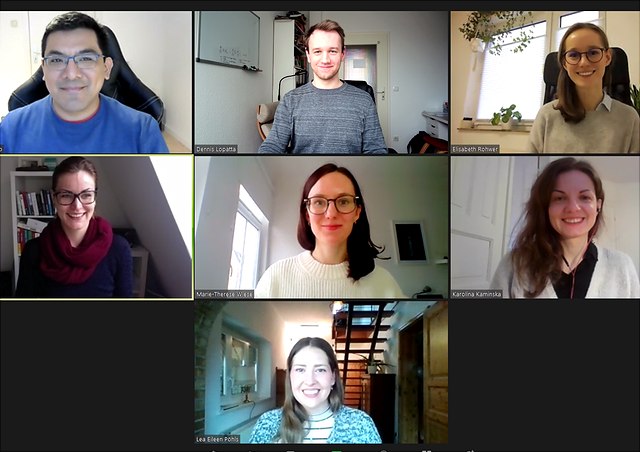 The Hamburg Research Academy gives early career researchers a voice in its affairs.
To this end, the Doctoral Council represents the interests of doctoral researchers and promotes networking among group members. The Doctoral Council participates and votes in HRA Council meetings and plays an active role in the development of the HRA's services. It has its own budget for achieving its objectives.
Get together and election HRA Doctoral Council
On 19 May 2022, the election of the new HRA Doctoral Council follows the HRA Promovierendentag. We are inviting all doctoral researchers to get to know the council's work, to ask questions and to elect the new members. You are also welcome to stand for election yourself.
Digital Write-In: Every Thursday
We as the Doctoral Council would like to invite all doctoral researchers from Hamburg to a joint Write-In and exchange.
Speakers 2020/2021
Speakers:
Elena Jahn
Universität Hamburg
Karolina Kamińska
Universität Hamburg
Dennis Lopatta
Universität Hamburg
Carlos Eduardo Perez Crespo
Universität Hamburg
Lea Eileen Pöhls
Universität Hamburg
Elisabeth Rohwer
Universität Hamburg, Universitätsklinikum Eppendorf
Marie-Therese Wiese
Universität Hamburg
Speakers 2019/2020
Speakers:
Andrea Catalina Fajardo
Universität Hamburg
Lisa Schmidt
Helmut Schmidt Universität / Universität der Bundeswehr
Julia Simon
Helmut Schmidt Universität / Universität der Bundeswehr
Andreas Zöllner
Bucerius Law School, Helmut Schmidt Universität / Universität der Bundeswehr, Hochschule für Angewandte Wissenschaften Hamburg
 
Deputies:
Jakob Beyer
Universität Hamburg, DESY
Kay-Dennis Boom
Universität Hamburg
Michael Deffner
Universität Hamburg
Yvonne Siegmund
HafenCity Universität Hamburg


Contact Doctoral Council:
promovierendenrat@hra-hamburg.de (promovierendenrat"AT"hra-hamburg.de)