Interview mit Zhejun Yao
I am a research assistant in the Laboratory of Manufacturing Technology (LaFT) at the Helmut Schmidt University (HSU). My doctoral research is in the field of soft wearable robotics, which is mainly made from soft materials and provides physical support to the user.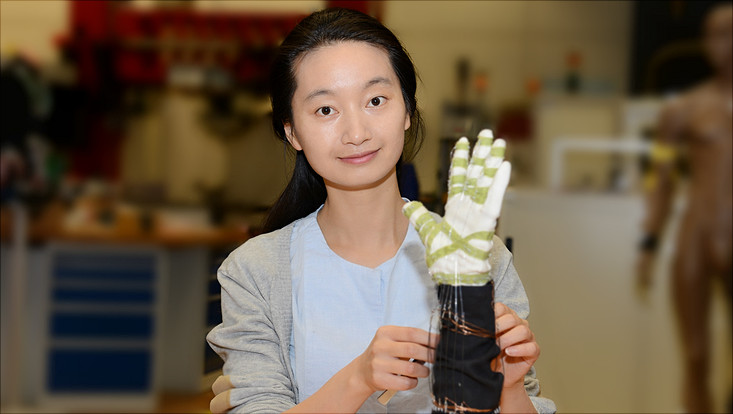 What do you like most about the city of Hamburg?
Hamburg is a metropolis which is lively but not noisy. It contains the advantages of living in a big city, like convenient public transportation, countless entertainment options and events. However, it also offers a quiet and scenic backdrop what the countryside do, such as Blankenese and the areas around the Alster lack. That is why I love living in Hamburg.
What do you like most about the research location Hamburg?
The universities in Hamburg have very interesting research topics. They have very good cooperation with each other and with the national as well as the international institutes. In addition, Hamburg offers a special program- Pro Exzellenzia- to female young researchers for founding, career training and coaching.
What brought you to Hamburg?
The main reason for me to move to Hamburg is the research area of supporting systems and robotics in LaFT. I studied automation and robotics before in Aachen. After my master study, I looked for a research topic which uses robotic technology to support people in addition to conventional robotic systems. And LaFT woke up my interests. Moreover, Hamburg is a lovely city for me to live.
What advise would you give interested doctoral candidates?
Actively seek out your research interest which is more important than you think. You have the chance to touch different research areas during your Bachler and Master studies. Be active to visit the labs that interest you and ask for working opportunities in those labs. Then you can have a close look at the daily research life of the doctoral student and find out if this life and the research area is interesting enough for you to engage in for about 5 years. A lack of motivation cannot support you to finish the hard work.
---