Courses
Pooling resources—our cross-university course platform is now online!
11 September 2018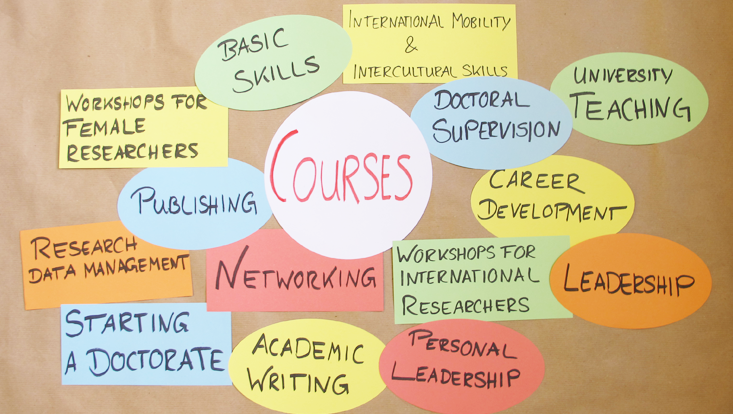 Photo: HRA
Find all courses open to member institutions on our homepage under "Our offers > Courses." This platform makes it easier for Hamburg's doctoral and early career researchers to gain transferable skills. It is also an important step towards cross-university networking.
Would you like to manage your time better, prepare your oral defense, or plan the next step in your career? Hamburg's higher education institutions offer a colorful palette of opportunities for doctoral and early career researchers. Previously, courses were only open to members of the individual institutions. The HRA has now created a course platform to make the search for courses on transferable skills easier. What makes this special is that the courses listed here are open to doctoral and early career researchers at all member institutions.
The courses are user-friendly organized by topic. Register, as previously, directly with the individual provider. Please note that admission is on a first-come, first-served basis. Currently, courses are being offered by HR Development at Universität Hamburg (Kompass program), the Graduate Academy for Technology and Innovation at Hamburg University of Technology (TUHH), the center for doctoral students (Promotionszentrum) at Hamburg University of Applied Sciences (HAW), Bucerius Law School, Helmut Schmidt University, and the Hamburg Center for University Teaching and Learning (HUL) at Universität Hamburg. The HRA will add its own courses in Winter Semester 2018/19.
There are already various types of advising in addition to the course offers. You can make an individual advising appointment at the HRA on the following topics: doing a doctorate, the postdoctoral phase and junior professorship, and good scientific practice.
Keep up with all the latest news from the HRA and follow us on Twitter or Facebook!
www.facebook.com/hamburgresearchacademy
www.twitter.com/hrahamburg
---